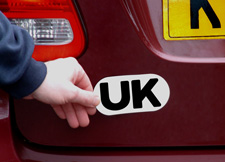 European Motoring Kit



This product is included in our European Motoring Kit... More info




See Also...



High-quality, laminated, self-adhesive GB plates for use on caravans and motorcycles.

Fly your flag with pride with a magnetic St George's Cross.



Buy Onboard

All essential products required to ensure you are Safe & Legal are available onboard from all the major ferry companies and cross-channel operators.