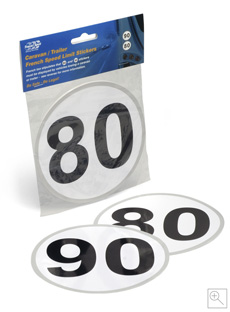 Caravan/Trailer French Speed Limit Stickers [Click image to close]

French law stipulates that 80 and 90 stickers must be displayed by vehicles towing a caravan or trailer.

Whilst, by the letter of the law, this only applies to 'resident' vehicles, UK drivers should be aware that 'local' Police are not always aware of this and we therefore strongly recommend that UK drivers fit the Speed Stickers as well. This will avoid any risk of being fined, or trying to 'argue the point' if stopped by the Gendarmes!

The regulation stipulates that vehicles driving in France that are towing a caravan or trailer, where the vehicle has a GTM over 3.5 tonnes (see below), must display 80 and 90 'speed limit' stickers. This is because French Law says that they are required to drive at the lower speed limits of:

- 80 km/h on single carriageways
- 90 km/h on dual carriageways / motorways.

The 80 sticker must be applied to the back of the caravan / trailer in the bottom left hand corner, with the 90 sticker either placed above or to its right.

GTM (Gross Train Mass) is the maximum permitted 'fully loaded' weight of your vehicle ADDED TO the maximum permitted caravan / trailer towing weight for your vehicle. This information can normally be found in your vehicle handbook. As a guide, most family sized cars (e.g. Ford Mondeo) will have a GTM in excess of 3.5 tonnes.

NOTE: This law is based on the 'theoretical' total GTM and, even if you are towing a smaller trailer with a lightly loaded car, stickers MUST still be applied!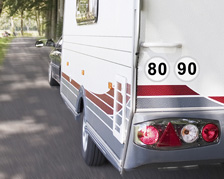 Information Leaflet

Read this useful leaflet for an overview of the French law... Download




Buy Onboard



All essential products required to ensure you are Safe & Legal are available onboard from all the major ferry companies and cross-channel operators.