New French Breathalyser Law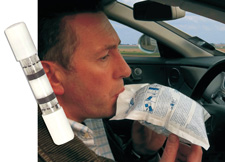 French Government confirms:
From March 2013, all vehicles travelling in France MUST, by law, be carrying NF Approved Breathalysers.

These will need to be approved for use in France and specifically calibrated to the 0.5% French alcohol limit (UK limit is 0.8%).




European Motoring Kit



This product is included in our European Motoring Kit... More info




Buy Onboard



All essential products required to ensure you are Safe & Legal are available onboard from all the major ferry companies and cross-channel operators.