Guarantee your parking space with Travel Spot's Remote Control Parking Barrier

This battery operated barrier is simply installed in minutes and can be operated from the comfort of your vehicle. It is ideal for home, office, or anywhere else where you need to prevent unauthorised parking.

The system is supplied with 4 anchor bolts which simply fix into tarmac, etc. Being battery operated, there are no electric cables to worry about and the battery will last approximately 4 - 6 months between re-charges. The battery is completely waterproof and supplied with its own mains charger.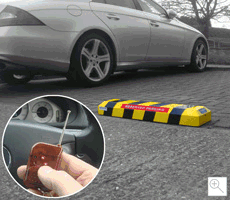 Remote Control Parking Barrier [Click image to close]